Support for ADD2 Adapter Cards
Overview
An ADD2 card is an adapter card inserted into the PCI Express* port of a computer running one of the following Intel® chipsets:
Intel® 946GZ Express Chipset
Intel® 945G Express Chipset
Intel® G965 Express Chipset
Intel® Q965 Express Chipset
Intel® Q963 Express Chipset
Intel® G31 Express Chipset
Intel® G33 Express Chipset
Intel® G35 Express Chipset
Intel® Q33 Express Chipset
Intel® Q35 Express Chipset
Intel® G41 Express Chipset
Intel® G43 Express Chipset
Intel® G45 Express Chipset
Intel® Q43 Express Chipset
Intel® Q45 Express Chipset
ADD2 cards use the PCI Express x16 port to get serial digital video out (SDVO) signals from the Graphics and Memory Controller Hub (GMCH). ADD2 cards allow configurations for TV-out, LVDS, and TMDS output (for example, televisions and digital displays/flat panels). Combined with an Intel® Graphics Media Accelerator driver, ADD2 cards can be used to display output to a television, digital display, or simultaneously to a monitor and digital display.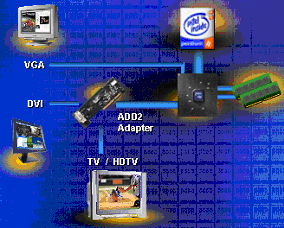 Compatibility
ADD2 cards have display output options that expand the range of display devices supported by a computer. Some examples of SDVO devices for use on ADD2 cards (available through third parties) are:
Combo devices:

Dual Link DVI: dual independent DVI displays
TV-out (composite): primary or secondary TV-out display (standard definition in PAL or NTSC formats)
HDTV-out: primary or secondary HDTV display
VGA-out: drive second RGB independent display

DVI: primary or secondary DVI display
LVDS: LVDS interface for integrated flat panel
HDMI: main or secondary HDTV display
| | |
| --- | --- |
| Note | ADD2 cards are only compatible in computers with Intel® G41, G43, G45, Q43, Q45, G35, G33, G31, Q33, Q35, G965, Q965, Q963, 946GZ, 915G or 945G Express chipsets and a PCI Express slot. ADD2 cards cannot be inserted into an AGP computer slot (for example: computers using an Intel® 845G or 865G chipset). |
Support
Unless purchased with an Intel® Desktop Board, technical support for ADD2 card hardware should be directed to the original manufacturer of the card. If the issue appears to be with the graphics driver software, contact Intel Support, your computer manufacturer, and/or place of purchase of the card for assistance.
| | |
| --- | --- |
| Note | Intel offers email support for only the latest generations of Intel® graphics products. Email support is not available for some older graphics products. |
Purchasing and availability
End users with computers running Intel® G45, G43, G41, Q43, Q45, G35, G33, G31, Q33, Q31, G965, Q965, Q963, 946GZ, 915G or 945G Express Chipsets should contact their computer manufacturer or local computer reseller for availability of ADD2 cards.