Summary
Steps to create a bootable USB drive for operating system (OS) installation
Description
Unable to install operating system (OS) due to USB optical drive not recognized by Intel® Server Board when using Unified Extensible Firmware Interface (UEFI) boot mode.
Resolution
Since the Windows* operating system install.wim file is larger than 4 GB, it cannot be copied in a FAT32 file system formatted USB flash drive.  For this matter, it needs to use an NTFS file system instead.
However, the UEFI shell is unable to read NTFS partitioned devices; therefore, the use of a 3rd party application such as Rufus is the solution.
Follow the steps below to create a bootable USB installation media of a desired OS for UEFI using third party software such as Rufus (Windows* OS used as an example):
Download Rufus.
Choose File System as New Technology File System (NTFS format).
Partition scheme as UEFI (GPT).
Select the location of Windows* operating system image (.iso)
Click the Start button.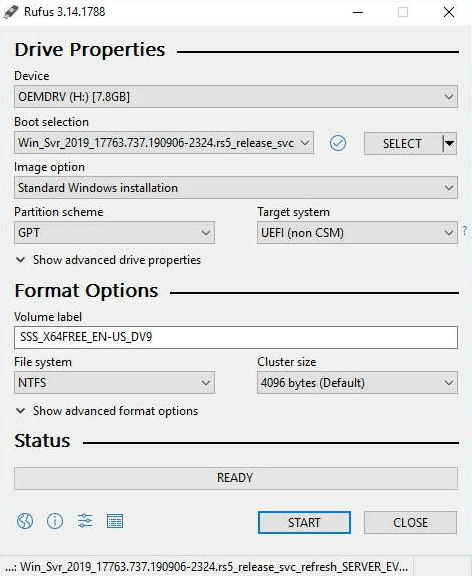 Additional information
The GUID Partition Table (GPT) was introduced as a part of the Extensible Firmware Interface (EFI) initiative. The GPT provides you with a more flexible mechanism for partitioning disks than the older Master Boot Record (MBR) partitioning scheme that has been common to PCs.